S.T.A.L.K.E.R. 2 Will Be Officially Powered by Unreal Engine 4 to Make Modding "Accessible"
While we know next to nothing about the long-awaited sequel to STALKER, the game's engine is no longer a mystery — as the masterminds behind one of the world's most popular game tools will help GSC Game World bring their vision of Chernobyl to life.
The company has officially announced that the title will be powered by Unreal Engine — a powerful instrument originally designed by the team at Epic Games for Unreal, and later licensed to other developers and used in a plethora of games, from Mass Effect 3 to Ace Combat 7: Skies Unknown.
According to GSC, the Kiev-based developer "constantly searches for the best technologies to work with, and UE was the most suitable choice for us. It gives the opportunity to make the game you wait for with the atmosphere of tension and mystery the flesh and blood of the S.T.A.L.K.E.R. universe. Additionally, Unreal Engine harmonizes well with our goal to make modding more easy and accessible," the studio explained on Twitter..
Given that fans of the post-apocalyptic franchise are still creating their own stories using the STALKER tools to this day, it's good to hear that despite all the odds, the studio still holds the community dear.
As a reminder, Epic's Director of Publishing Strategy Sergey Galyonkin was the first person to reveal the game's engine, back when he was speaking on Russian game podcast How to Make Games in May 2018.
S.T.A.L.K.E.R. 2 is powered by Unreal Engine: pic.twitter.com/RdDWr4yYj3

— S.T.A.L.K.E.R. OFFICIAL (@stalker_thegame) January 2, 2020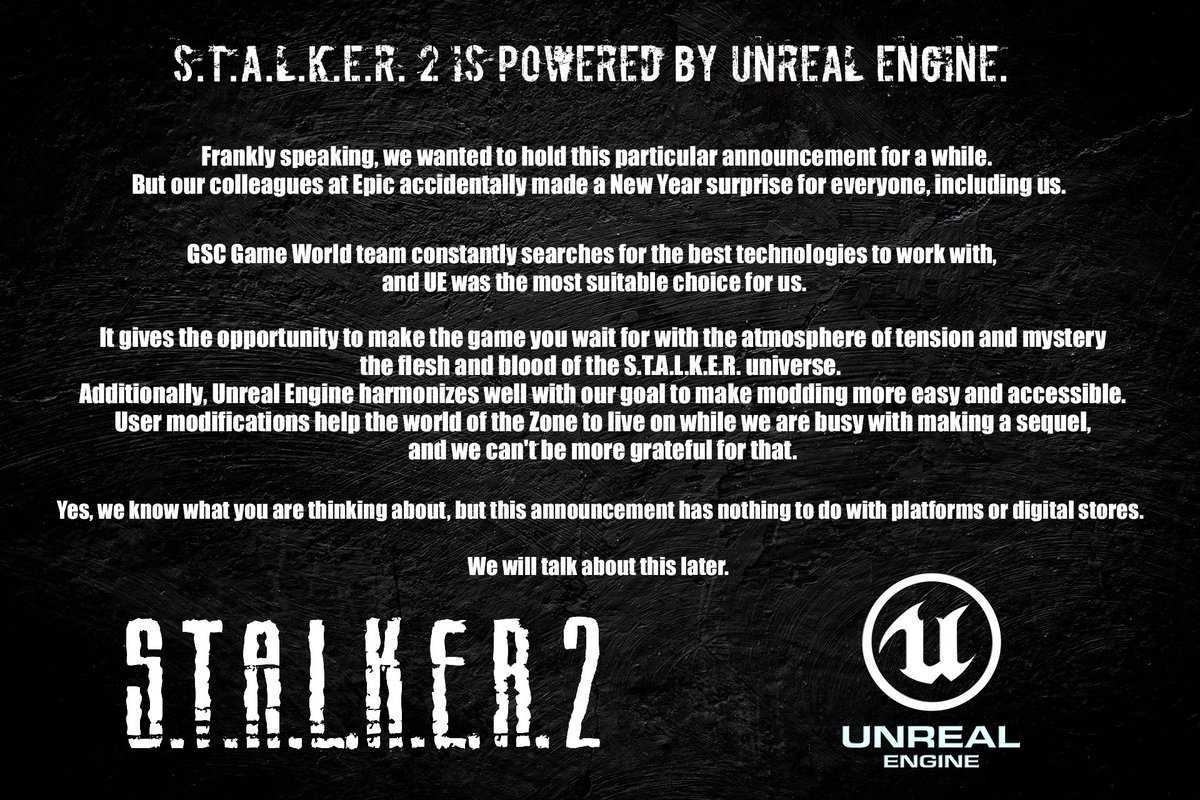 The revived S.T.A.L.K.E.R. 2 is still on track for a 2021 release. 
ABOUT THE AUTHOR: Bartosz Sobczak - Owner, Editor-in-Chief
Lawyer by day, video game reporter by night. Long-time fan of the Mass Effect, Age of Empires, Prince of Persia, BioShock — especially the second one — and Splinter Cell series (who still believes that the best is yet to come). Tries his hardest to shine a new light on the Polish game-development scene. Gameplay Mechanix is his biggest passion project to date. Often listens to old episodes of The Late Late Show with Craig Ferguson while writing. Privately a cat person.
Comments for this thread are now closed...