Nintendo Has Released a First Look at Dr. Doom in MARVEL ULTIMATE ALLIANCE 3: THE BLACK ORDER
Mechanic: Bartosz Sobczak
Nintendo has revealed first details on the next Marvel Ultimate Alliance 3: The Black Order DLC — titled Fantastic Four: Shadow of Doom — and chances are that fans of the villainous ruler of Latveria will be happy with his in-game portrayal.
The Japanese company has released a brand-new Fantastic Four-themed artwork for the game's final DLC, putting the spotlight on the one and only Dr. Doom. While the actual content's quality remains a big unknown, there's no denying that Team Ninja has done a good job capturing the essence of Victor von Doom — even if his mask is a bit too Ultron-y for some comic book enthusiasts. 
Marvel Ultimate Alliance 3: The Black Order - Fantastic Four: Shadow of Doom will be released this spring.
Owners of the game can purchase the Expansion Pass — priced at $19.99 — to receive all of the post-launch content, which also includes the Marvel Knights: Curse of the Vampire and X-Men: Rise of the Phoenix DLC.
Considering that Nintendo is getting ready to share more information on the acclaimed hack'n'slash's last expansion, we should learn a whole lot more about Shadow of Doom in the weeks ahead. In the meantime, be sure to take a closer look at the villain himself in the wonderful promotional artwork down below:
Are you ready to stop Doctor Doom from unleashing cosmic chaos? MARVEL ULTIMATE ALLIANCE 3: The Black Order DLC Pack 3 - Fantastic Four: Shadow of Doom is arriving Spring 2020, but check out a quick glimpse of Doctor Doom himself. Keep an eye out for more DLC Pack 3 news! #MUA3 pic.twitter.com/Of3MYiMS61

— Nintendo of America (@NintendoAmerica) January 27, 2020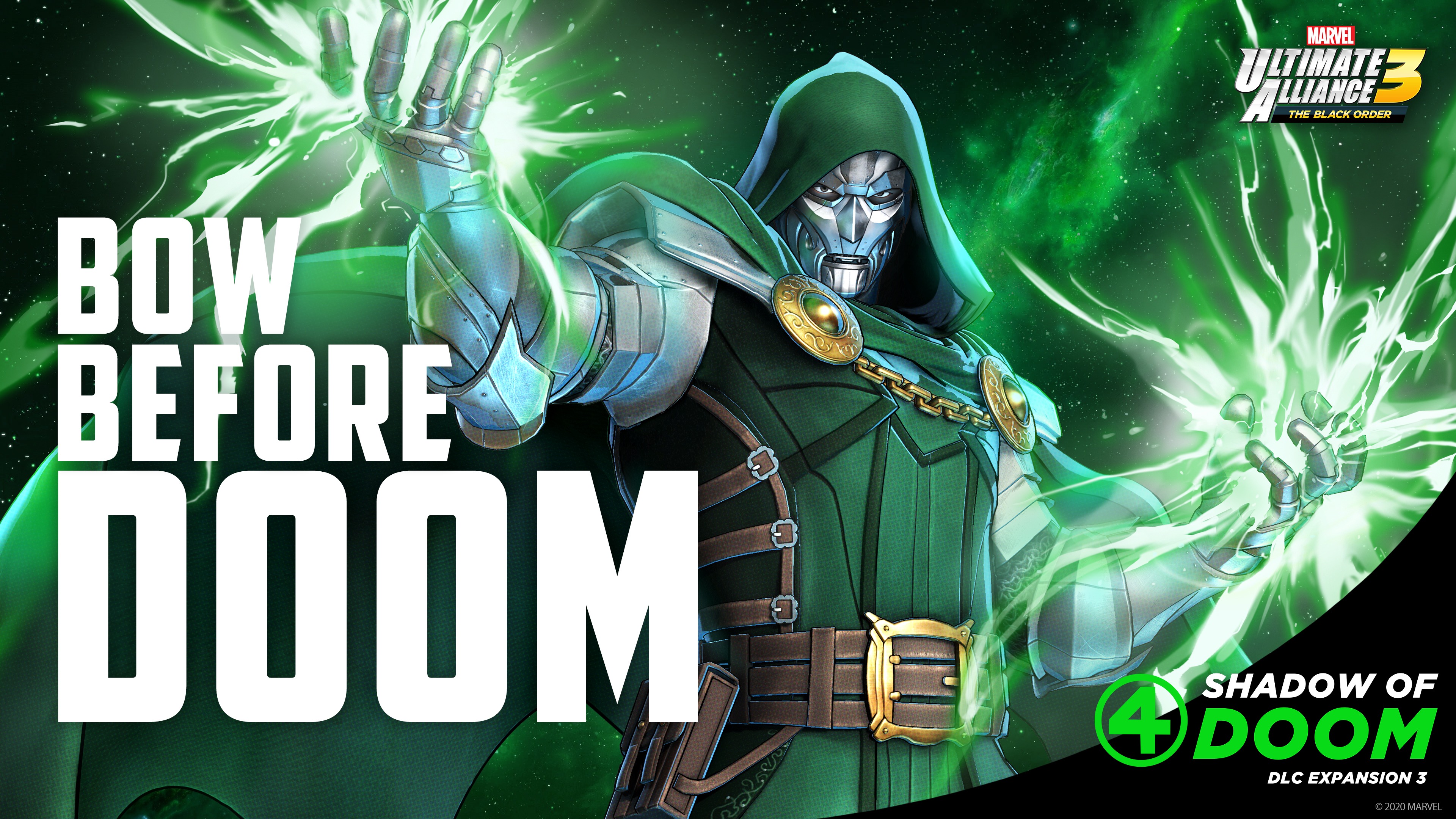 The MARVEL ULTIMATE ALLIANCE series returns for the first time in 10 years—with a new action RPG—exclusively on the Nintendo Switch™ system! Assemble your ultimate team of Marvel Super Heroes from a huge cast including the Avengers, the Guardians of the Galaxy, the X-Men, and more! Team up with friends to prevent galactic devastation at the hands of the mad cosmic tyrant Thanos and his ruthless warmasters, The Black Order.
Marvel Ultimate Alliance 3: The Black Order is currently available for Nintendo Switch.
ABOUT THE AUTHOR: Bartosz Sobczak - Owner, Editor-in-Chief
Lawyer by day, video game reporter by night. Long-time fan of the Mass Effect, Age of Empires, Prince of Persia, BioShock — especially the second one — and Splinter Cell series (who still believes that the best is yet to come). Tries his hardest to shine a new light on the Polish game-development scene. Gameplay Mechanix is his biggest passion project to date. Often listens to old episodes of The Late Late Show with Craig Ferguson while writing. Privately a cat person.
Comments for this thread are now closed...