BIOMUTANT Is Still in the Works; Experiment 101's Game Has Entered the Final Stages of Development
According to the development team at Swedish studio Experiment 101, the long-delayed Biomutant is still in the works, but it doesn't sound like the promising action-adventure production will be released anytime soon, unfortunately.
Although Biomutant was officially announced a good couple of years ago, we still don't know when to expect its launch. Following months of radio silence, Experiment 101 finally revealed new details on Biomutant via the game's Twitter account, confirming that the long-awaited game is still on the way.
"We know many of you are wondering if the game is still in development," the message says. "Let us assure you that we've never been working harder and more focused on it than now! We are doing everything we can to make this the best game all of us have ever worked on and that it will be as entertaining and great as we can possibly make it. We can only hope for your continued support and patience as we complete the final stages of its development."
In Experiment 101's Biomutant, you play as a hamster-like humanoid who tries to find a way to stop a deadly plague that is corrupting his homeland. Considering that in-game tribes stand divided, they desperately need someone strong enough to unite them and end the curse – and that obviously is the player's role.
With Biomutant being published by THQ Nordic, chances are that more information on the game will be revealed in the very near future. In the meantime, check out the message in its entirety down below:
February 19, 2020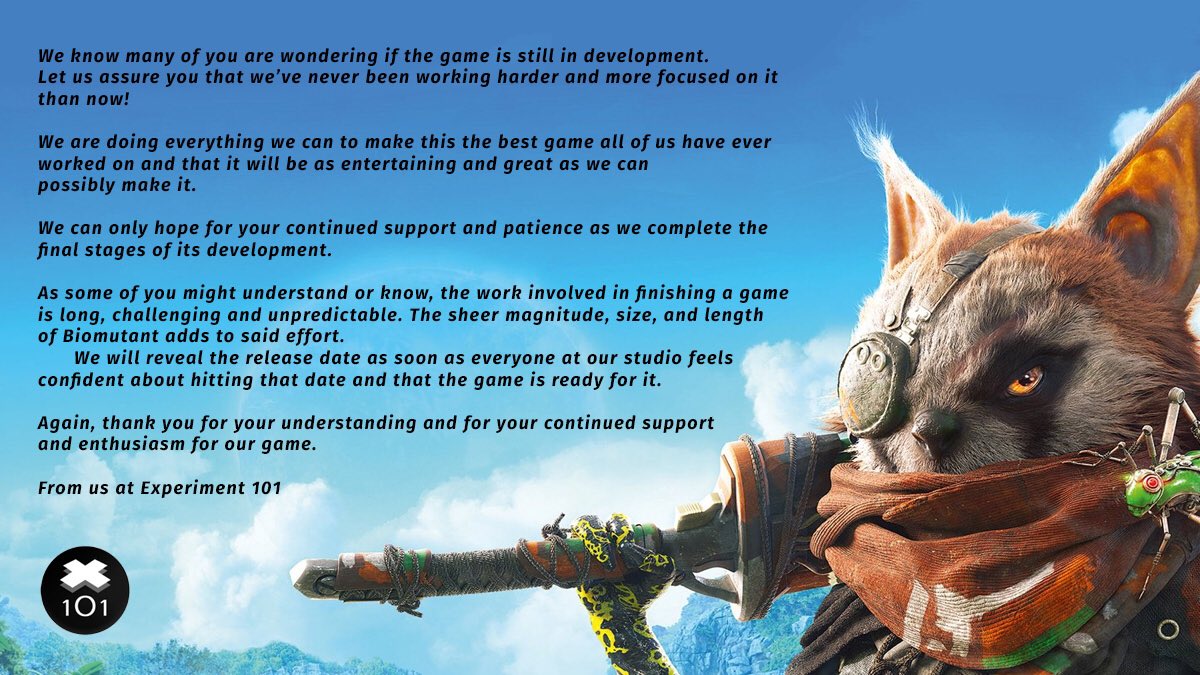 BIOMUTANT is an open-world, post-apocalyptic Kung-Fu fable RPG, with a unique martial arts styled combat system allowing you to mix melee, shooting and mutant ability action. A plague is ruining the land and the Tree-of-Life is bleeding death from its roots. The Tribes stand divided. Explore a world in turmoil and define its fate – will you be its saviour or lead it to an even darker destiny?
Biomutant is coming to PlayStation 4, Xbox One and Windows PC.