Guardians of the Galaxy & Thanos Will Don Comic-Accurate Outfits in MARVEL ULTIMATE ALLIANCE 3
Mechanic: Bartosz Sobczak
The Guardians of the Galaxy and Thanos will also don comic-accurate outfits in Marvel Ultimate Alliance 3: The Black Order, joining Daredevil, Iron Fist, Luke Cage, Elektra, Deadpool, Hawkeye, Black Widow, Falcon, Wasp and Crystal.
That's right, Star Lord, Rocket Raccoon, Groot, Drax, Gamora and the Mad Titan will get brand-new alternate costumes, and they will be released on March 25, 2020, as Shadow of Doom will appear only one day later.
In the upcoming DLC for last year's Nintendo Switch–exclusive Marvel Ultimate Alliance 3: The Black Order, the Fantastic Four will reunite once again to stop the villainous plans of their greatest enemy, Dr. Doom.
Unfortunately, players won't be able to purchase the expansion separately anytime soon. While it's a controversial decision, those who decide to buy the title's Season Pass (currently priced at $19.99) will get the chance to freely download not only the Shadow of Doom expansion, but also two previously released DLC for the hack'n'slash game, Marvel Knights: Curse of the Vampire and X-Men: Rise of the Phoenix.
Wait no more, and take a closer look at the aforementioned Marvel Ultimate Alliance 3 suits down below:
Relive the iconic events that united the space-faring team we know as the Guardians of the Galaxy in these free costumes landing in Marvel Ultimate Alliance 3: Shadow of Doom on 3/26! @NintendoAmerica #MUA3 pic.twitter.com/2b0g4zpPeq

— Marvel Games (@MarvelGames) March 21, 2020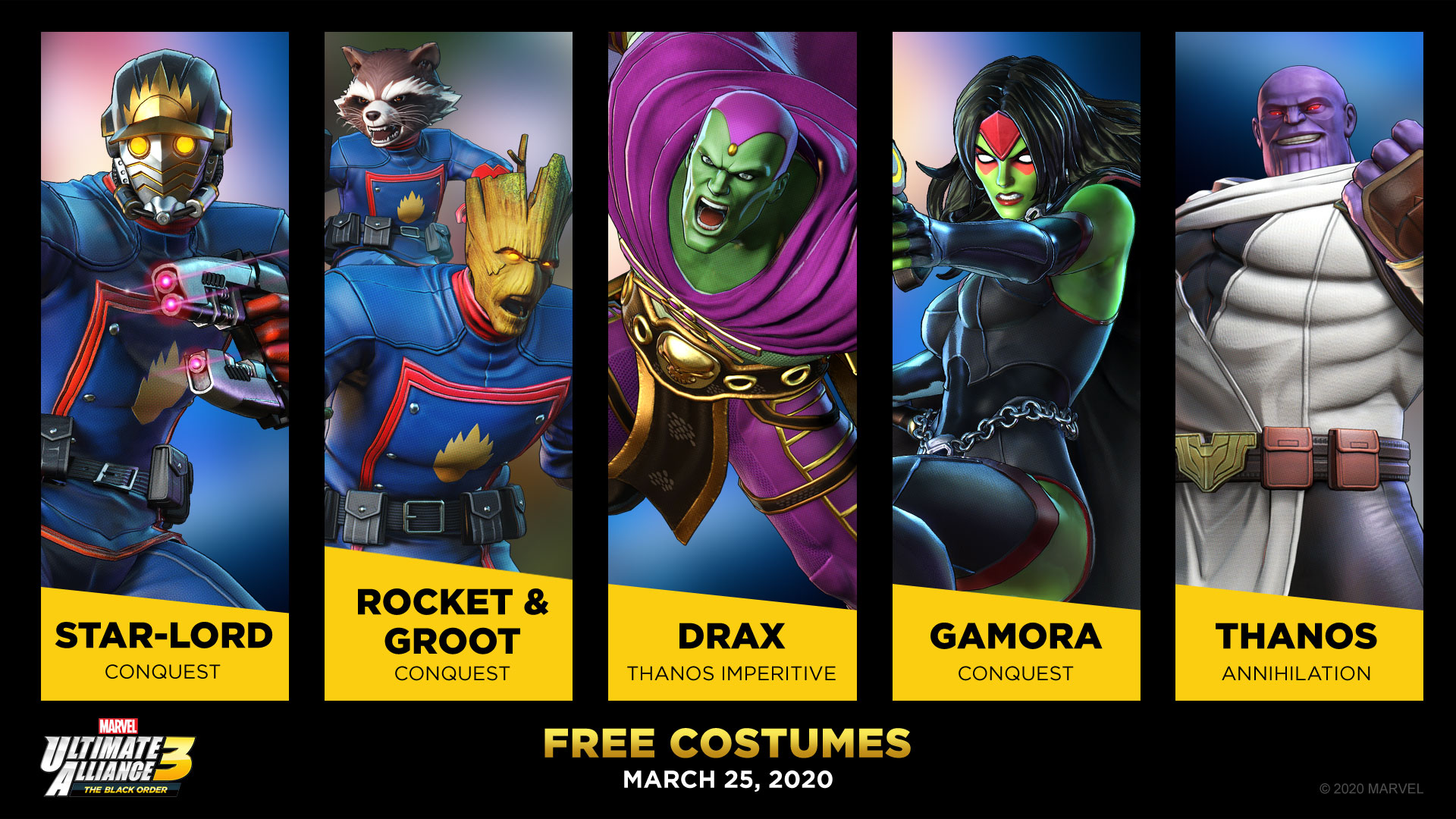 The MARVEL ULTIMATE ALLIANCE series returns for the first time in 10 years—with a new action RPG—exclusively on the Nintendo Switch™ system! Assemble your ultimate team of Marvel Super Heroes from a huge cast including the Avengers, the Guardians of the Galaxy, the X-Men, and more! Team up with friends to prevent galactic devastation at the hands of the mad cosmic tyrant Thanos and his ruthless warmasters, The Black Order.
Marvel Ultimate Alliance 3: The Black Order is currently available for Nintendo Switch.