WASTELAND 3 Has Been Delayed to August as Turn-Based Strategy Shines in Explosive Footage
InXile Entertainment's sequel to Wasteland 2 is yet another video game that has been pushed back due to the ongoing COVID-19 pandemic, as the highly anticipated turn-based strategy will now make its debut on August 28, 2020. Wasteland 3 was supposed to launch on May 19, so we're looking at a three-month delay.
Despite the setback, Wasteland 3 will still be available for PlayStation 4, Xbox One, and PC when it releases.
"As with most companies, we have moved to a work-from-home environment some weeks ago, and that's of course introduced new challenges that many of us throughout the world have been learning to manage," inXile Entertainment Studio Head Brian Fargo explained on Twitter recently.
"We've been excited to see the Wasteland 3 Beta so well received, but the reality is that with these new logistical challenges our release was going to be impacted," the legendary Fallout creator added.
If you're eager to play Wasteland 3, IGN has released an action-packed gameplay preview that should make the wait a little bit easier. Without further ado, take a look at Fargo's statement and said video down below:
We have an important update on Wasteland 3's release date. pic.twitter.com/hiX1CygcUk

— Wasteland ☢️ (@Wasteland) March 31, 2020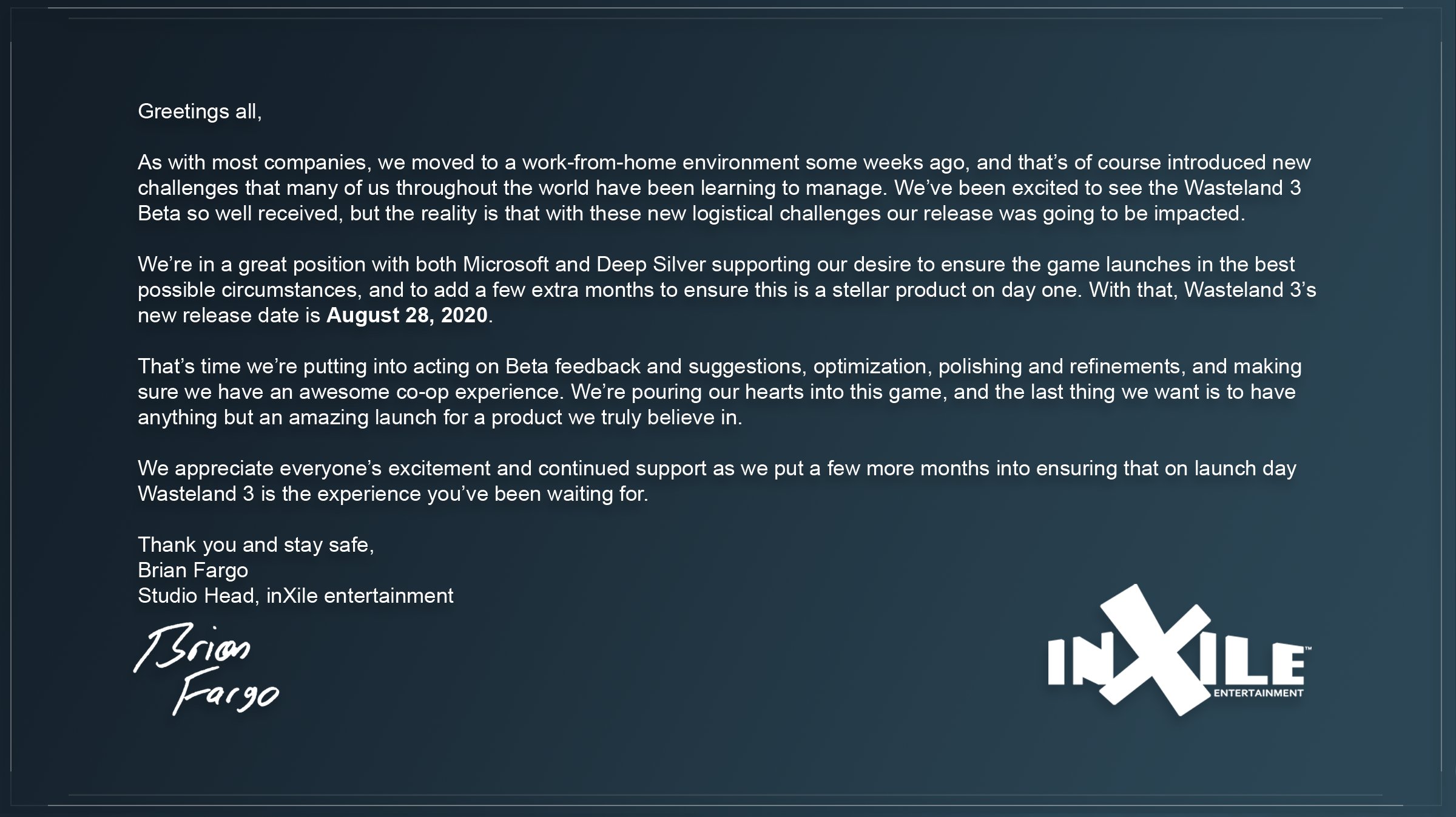 ---
The RPG series that pioneered the post-apocalyptic genre returns with Wasteland 3. Following the critically acclaimed release of 2014 Game of the Year winner Wasteland 2, Wasteland 3 takes players from the radioactive heat of the American Southwest to the perpetual nuclear winter of Colorado.
Wasteland 3 is coming to PlayStation 4, Xbox One and PC (via Steam and GOG) on August 28, 2020.
ABOUT THE AUTHOR: Bartosz Sobczak - Owner, Editor-in-Chief
Lawyer by day, video game reporter by night. Long-time fan of the Mass Effect, Age of Empires, Prince of Persia, BioShock — especially the second one — and Splinter Cell series (who still believes that the best is yet to come). Tries his hardest to shine a new light on the Polish game-development scene. Gameplay Mechanix is his biggest passion project to date. Often listens to old episodes of The Late Late Show with Craig Ferguson while writing. Privately a cat person.
Comments for this thread or now closed...