Bethesda & id Software Pay Homage to FINAL FANTASY VII and Congratulate Square Enix on REMAKE Launch
As Square Enix's Final Fantasy VII Remake continues to draw critical acclaim, Bethesda has taken to social media to congratulate the studio on its success with a piece of artwork that sees the Doom Slayer paying homage to the 1997 classic. Quite surprisingly, Bethesda and if Software's take on the well-known Final Fantasy VII cover art might be as good, if not better, than the original artwork (and its reimagined version).
Funnily enough, both Doom: Eternal and Final Fantasy VII Remake are currently sitting at the very same critic score on review aggregator Metacritic — 87% — which is a tremendous achievement in and of itself.
Considering that Doom: Eternal has been selling better than any other Doom game in the franchise, it's safe to say that the all-new production will get a full-blown sequel sooner rather than later. When it comes to Final Fantasy VII Remake, Square has already confirmed that it's only the first entry in a multi-part series.
Although Doom: Eternal is now available for PlayStation 4, Xbox One, PC, and even Stadia — also coming to Switch at a later date — Final Fantasy VII Remake is a PS4-exclusive title, at least for a period of one year.
Without further ado, take a closer look at the full version of the stellar Doom: Eternal artwork down below:
Congratulations to @finalfantasyvii on launch. #FF7R pic.twitter.com/86iQnsbLTe

— DOOM (@DOOM) April 10, 2020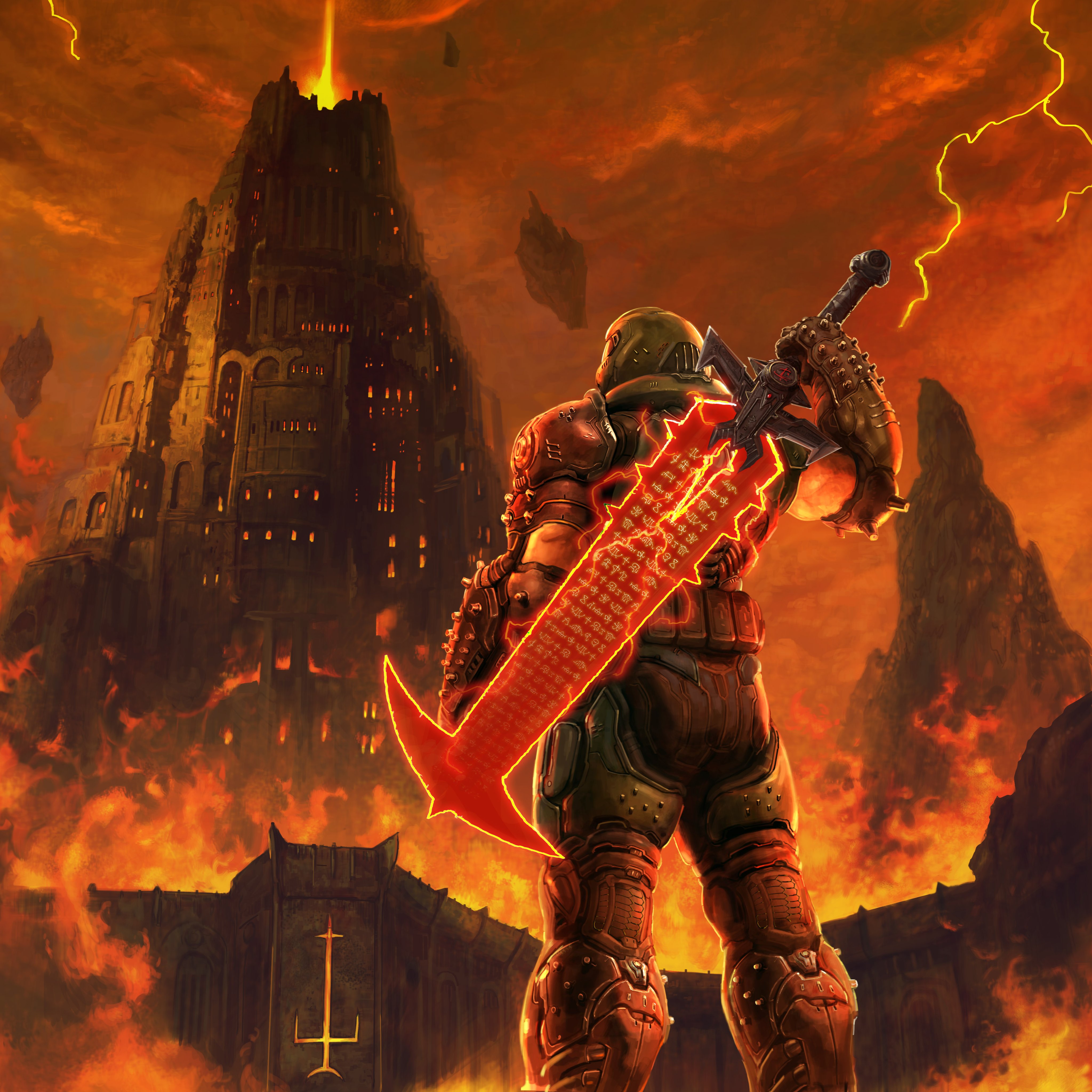 The world has fallen under the control of the Shinra Electric Power Company, a shadowy corporation controlling the planet's very life force as mako energy. In the sprawling city of Midgar, an anti-Shinra organization calling themselves Avalanche have stepped up their resistance. Cloud Strife, a former member of Shinra's elite SOLDIER unit now turned mercenary, lends his aid to the group, unaware of the epic consequences that await him. The story of this first, standalone game in the FINAL FANTASY VII REMAKE project covers up to the party's escape from Midgar, and goes deeper into the events occurring in Midgar than the original FINAL FANTASY VII.
Final Fantasy VII: Remake is currently available for PlayStation 4.
ABOUT THE AUTHOR: Bartosz Sobczak - Owner, Editor-in-Chief
Lawyer by day, video game reporter by night. Long-time fan of the Mass Effect, Age of Empires, Prince of Persia, BioShock — especially the second one — and Splinter Cell series (who still believes that the best is yet to come). Tries his hardest to shine a new light on the Polish game-development scene. Gameplay Mechanix is his biggest passion project to date. Often listens to old episodes of The Late Late Show with Craig Ferguson while writing. Privately a cat person.
Comments for this thread are now closed...