Bethesda's THE ELDER SCROLLS ONLINE: GREYMOOR Expansion Has Been Pushed Back a Week
Mechanic: Bartosz Sobczak
Category: MMO Games
Bethesda has officially announced that the long-awaited The Elder Scrolls Online: Greymoor expansion has been pushed back and will now be available on PC (via Steam) on May 26, with the PlayStation 4 and Xbox One version launching on June 9. As a friendly reminder, the base game is also coming to Google Stadia.
"This is an extremely challenging time for the world, and I hope you are concentrating on the well-being of you and your families. All of us at ZOS have been doing the same, working from home, chatting on video, and sharing far too many memes with one another–all while working hard on ESO. We long for the time when we can "return to normal," but for now, we are–like many of you–trying to make the best of things," ZeniMax Online Studio's Game Director Matt Firor said on the game's website.
Considering that the onging coronavirus pandemic will probably not end anytime soon, the new launch date could obviously change — as the studio has never released a major ESO update while working from home.
Although the real-world situation is rather terrible, fans of the MMO should be happy to hear that the team is working hard to fix a "delayed input" problem that prevents key and button presses from registering.
With The Elder Scrolls Online: Greymoor making its debut in a month's time, we should learn a whole lot more about the DLC in the near future. In the meantime, take a closer look at Firor's message down below:
We can now officially announce that Greymoor will release on May 26 for PC/Mac and June 9 for PlayStation 4 and Xbox One.

An update on #ESO from Game Director Matt Firor: https://t.co/WQnn501MnJ pic.twitter.com/GeE9oqXLP4

— The Elder Scrolls Online (@TESOnline) April 28, 2020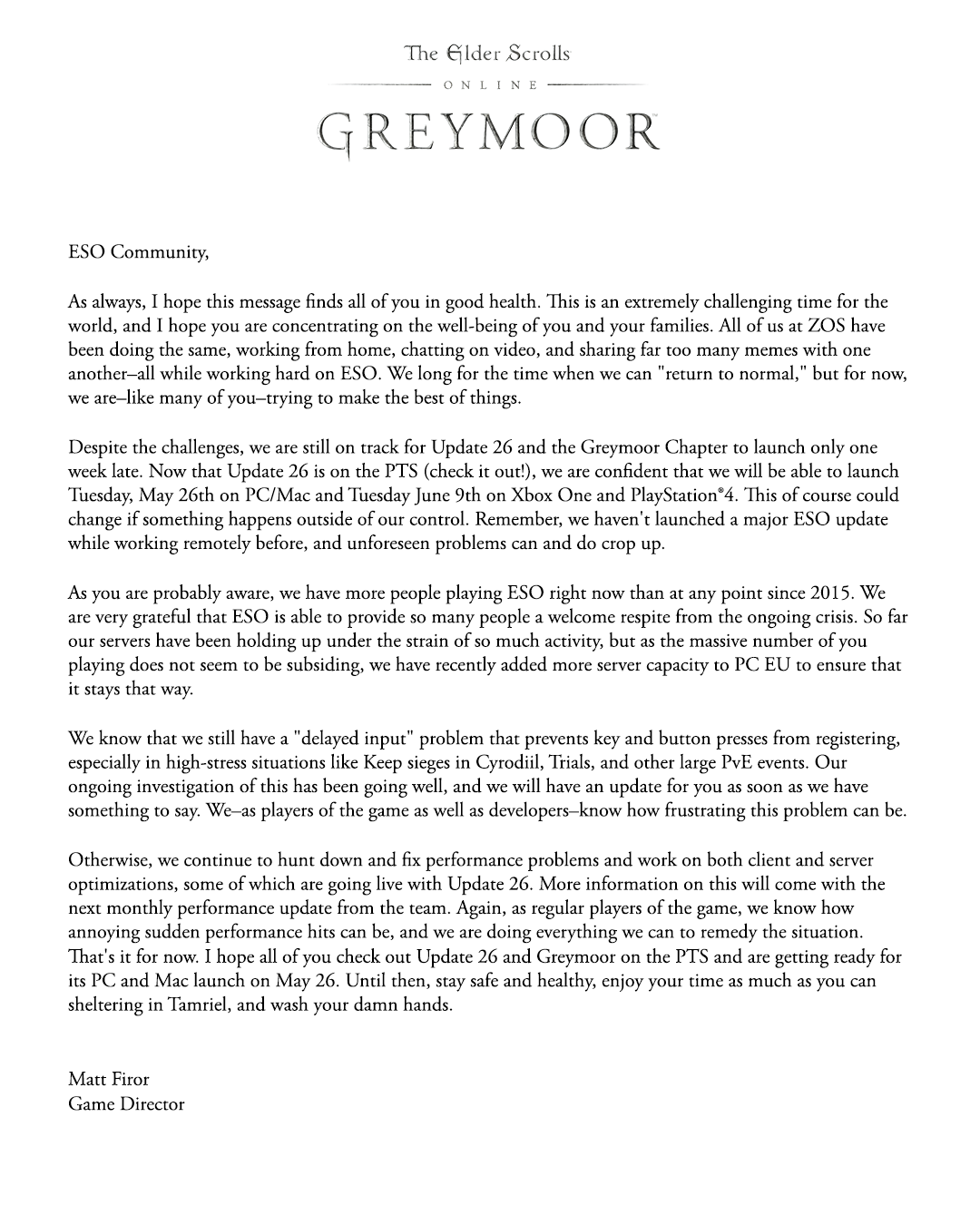 The Dark Heart of Skyrim beats from the depths in The Elder Scrolls Online: Greymoor, the latest adventure in the Elder Scrolls saga. A chilling evil from the First Era awakens, and Skyrim needs heroes. Explore the snow-swept region of Western Skyrim, discover Tamriel's hidden history, and face an ancient threat as part of a year-long story.
The Elder Scrolls Online: Greymoor will be available on PC (via Steam) on May 26, launching on PlayStation 4 & Xbox One on June 9; coming to Google Stadia at a later date.
ABOUT THE AUTHOR: Bartosz Sobczak - Owner, Editor-in-Chief
Lawyer by day, video game reporter by night. Long-time fan of the Mass Effect, Age of Empires, Prince of Persia, BioShock — especially the second one — and Splinter Cell series (who still believes that the best is yet to come). Tries his hardest to shine a new light on the Polish game-development scene. Gameplay Mechanix is his biggest passion project to date. Often listens to old episodes of The Late Late Show with Craig Ferguson while writing. Privately a cat person.
Comments for this thread are now closed...